René Richard, C.M., R.C.A.
Born: Switzerland: La Chaux-de-Fonds 1895-12-01
Died: Canada: Quebec, Baie-Saint-Paul 1982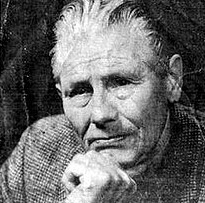 René Richard was born on 1 December 1895 in La Chaux-de-Fonds, Switzerland. His family moved to Montreal in 1909 and two years later relocated to Cold Lake, Alberta. While still a teenager, Richard began making trips into the bush and became a fur trapper. He spent thirteen years, from 1913 to 1926 traveling in northern Alberta, Saskatchewan, Manitoba and the Northwest Territorie as a "coureur des bois" – a trapper.
After returning to Alberta in 1930, Richard resumed his former career as a trapper. He made hundreds of sketches during his long wilderness journeys. He would depict landscapes and the camps of prospectors and trappers. This was an intensely productive period, when his unique style began to emerge. With little money, often he would draw on butcher's paper cut into sheets. Richard sold his first paintings in 1943. His first exhibition at L'Art français gallery in Montreal was a great success, and his reputation began to grow. In 1948 and 1951 Richard was employed as a government consultant on expeditions to the far north of Canada. He produced large landscapes between 1950 and 1965 based on memories of these journeys. His later work mostly depicted the Charlevoix region around Baie-Saint-Paul. Richard often exhibited in Quebec City and Montreal. The Musée national des beaux-arts du Québec held a solo exhibition of his work in 1967, and a retrospective ten years later. He received the Order of Canada in 1973. In 1980 Richard was elected a member of the Royal Canadian Academy of Arts. René Richard died on 31 March 1982 at Baie Sant-Paul, aged 86.
Montreal, Marc-Aurèle Fortin Museum.
René Richard Exhibition
May 11 to September 9, 1990
Musée du Québec, Québec,
Richard, Montpet
, 25 janvier au 19 avril 1987 / January 25 to April 19, 1987
Musée du Québec, Québec
René Richard
, 14 septembre – 15 octobre, 1978
Catalogue de l'exposition René-Richard, Musée du Québec, Québec, Ministère des Affaires culturelles, Éd. Marquis, 1978, 136 pages.
Catalogue de l'exposition René Richard 1895-1982, Centre d'exposition de Baie-Saint-Paul, 9 octobre 1993 au 30 janvier 1994, 24 pages.
DE JOUVENCOURT, Hugues, René Richard, Montréal, éditions La Frégate, 1978, 137 pages.
FONDATION RENÉ-RICHARD, Ville de Montréal, René Richard, Montréal, Fondation René-Richard, 1986, 80 pages.
QUENNEVILLE, Jean-Claude, René Richard, Le voyage d'un solitaire, Montréal, Trécarré, 1985, 150 pages.
REVUE DE LA SOCIÉTÉ HISTORIQUE DE CHARLEVOIX, René Richard, Baie-Saint-Paul, numéro 16, juin 1993, 36 pages.
RICHARD, René, Ma vie passée, Montréal, Art Global, 1990, 153 pages.
ROY, Gabrielle, La montagne secrète, Montréal, Boréal, 1961, 186 page